★★★★★
This balm has been a dream.I suffer from soreness, stiffness and general pain due to herniations in my cervical spine, and I use this product every night for relief.
Erin B - Verified Customer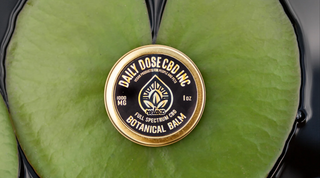 Dosage Guide
Daily Dose recommends applying this topical product directly to areas of discomfort that are holding tension. Be sure to treat yourself to a serene aromatic experience by using this balm for a temple rub, jaw massage, or neck/shoulder work. Balm can be directly applied to exterior skin, but be wary of application to broken or irritated skin. There is no dosage limitation or special procedure for this body product's usage. Store in a cool, dry location. Apply with sterile hands to avoid contamination.
Online Reviews
Total 5 star reviews: 5
Total 4 star reviews: 0
Total 3 star reviews: 0
Total 2 star reviews: 0
Total 1 star reviews: 0
100%
would recommend this product
5 Stars

Epic product! I love to use it at night time, to help with my insomnia that seems to creep up on me. Next up: botanical dog biscuits for my pup! Keep it up, guys! Amazing stuff!!

5 Stars

I only recently decided to give CBD a try because I knew it could help with inflammation and brother, do I have some inflammation! Someone I follow on social media turned me on to Daily Dose and gave rave reviews, so I decided to give it a try. You have to be careful because you don't really know what is in any product not regulated by the FDA, right – reviews are really our best bet. At any rate, with my first purchase (capsules) they added some of their INCREDIBLE balm. First, the smell is wonderful. Second, I put it on my shoulder – my shoulder that if I even tried to lay on that side of my body, I'd instantly wake up – and hand to Sweet Baby Jesus, I slept SO well that first night (and every night since). I feel better when I use the balm. I think once I've been taking the capsules for a bit of time, I may be as good as new!My daughter suffers from anxiety (she works at an Amazon warehouse, in the Time of Covid, so yeah, she has anxiety in spades). I placed an order on Saturday for more capsules to share with her, and some lip balm for both of us, and their Botanical Balm (of the Gods, really) for me and they sent a smaller one again that I've given to the kid. Everything arrived on Monday. Two days after I placed the order. That's fairly incredible.I'm a big fan. I believe their products are already helping me and will also help my daughter. I believe their prices are better than most (I've looked around), ESPECIALLY given my results. High quality. Plus, they send little…

5 Stars

Incredible, long lasting, deep muscle/joint pain & inflammation relief. Legit the best topical product I have ever used!Be it post workout, old injury acting up, new bump from- who knows.. this topical CBD botanical balm is the absolute Best. I apply directly to affected area & can feel relief (almost immediately) within 5-10mins that lasts for a long time.Also, discovered last summer, this balm is Excellent sunburn relief/recovery!! Not only did it sooth the radiating burn better than any aloe or over the counter burn aide, I had almost zero peeling!! (If you share my pastey complexion, you'll understand the gravity of that statement, lol!)Smell is not overwhelming or fragrant; quite pleasant, light, soothing for the ol' sensesCannot reccomend this product enough for topical pain & inflammatory relief!!

5 Stars

This balm has been a dream.I suffer from soreness, stiffness and general pain due to herniations in my cervical spine, and I use this product every night for relief. I thought with a small tin I'd run out quickly, but it goes a LONG way! Kelsey and Connor are so knowledgeable and really care about the wellness of their customers. They ask how I'm doing and include a personalized note with each purchase. Strongly recommend

5 Stars

I was lucky enough to have been gifted a sample of this balm with another purchase. The balm is SO good for relieving pain and stiffness in sore muscles and joints. I've used it on my injured shoulder after icing/heating, my lower back, and pretty much anywhere I have had pain (sore calves, tight hands from typing all the time, neck, etc), and even have used it on my jaw as I clench/grind my teeth. Massaging the balm in feels so good, and puts the pain to rest right away. It also smells really nice. I would definitely recommend this product!!
Reviews Loaded
Reviews Added