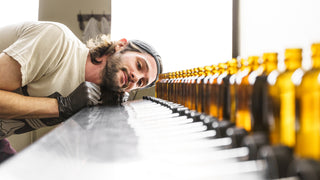 Who We Are
At Daily Dose CBD Inc., we strive to create effective & affordable Full Spectrum products for your whole family to enjoy (pets included). We personally craft each small batch of our signature oil from the finest distillate in the USA & hand-make every product to ensure a quality experience. 
Our Full Spectrum products provide the user with a healthy dose of CBD along with an entourage of various cannabinoids. Daily Dose's craft oils do contain trace amounts of THC that fall well under the legal limit of .3% by weight. These products are non-psychoactive. We stand by the power of all these natural compounds & believe that, when working alongside one another, they can offer any user maximum benefits. 
With third-party lab results made readily available to the public, your journey towards wellness & our relationship begins with your peace of mind."
Our Origin Story
"Daily Dose CBD Inc. is a small business based in Monmouth County, NJ. The company was passionately created by owner & operator Connor Kelly. Connor started as a kennel technician back in 2014 but quickly advanced to management within that same pet boarding & dog daycare facility for a resounding 5 years.
While on the clock, Connor took a particular affinity to work with "project" dogs that carried negative social histories, extreme anxieties, & incredibly soulful geriatric dogs that came with an arsenal of medications & health issues.
PERSONAL QUEST
"Off the clock, Connor buried his brain in anything he possibly could to improve the lives of his own animals; particularly the youngest dog in the pack who needed some serious help. Enzo, a Newfoundland, was blessed with a wild attitude, great hair & one WONKY front right leg!
He was born with a bone deformity that caused his leg to bow & twist during his very rapid growth spurt. This has, sadly, left this big lovable guy with a fair amount of daily discomfort & a predisposition to arthritis.
Veterinary recommendations
repeatedly pointed this dog lover in the direction of hard-hitting pharmaceutical intervention. But the medications were leaving this energetic dog in a hazy funk. There had to be a better way.
BREAKTHROUGH:
"Alternative plant medicine had always been a personal interest, but while at the kennel Connor began to see various brands of CBD oil coming in with overnight guests to support a wide variety of issues. After an exhaustive search within the very large & mysterious world of CBD, there was still no brand to stand by
confidently when it came to Enzo's care. So, the great experiments began & Daily Dose CBD was organically formed. "
Why We Do it ?
The current market is clouded by too much misinformation & greed; the Daily Dose team is working hard to change that as much as possible. We wish to build an EDUCATED COMMUNITY to grow alongside of. We believe that every person & pet deserves the right to an affordable, organic option for their personal healthcare. We are all here to care for one another, especially if they're a dog :).
Why Choose Us?
At Daily Dose CBD, we prioritize safety and quality by adhering to strict industry standards to provide effective supplements that can enhance your wellness journey.
Utilizing non-GMO, locally-sourced industrial hemp, our knowledgeable botanist employs distillation techniques to produce premium CBD products of exceptional purity, potency and consistency. Our hemp-derived CBD products boast an all-natural formulation, free from artificial colors and flavors, preservatives, corn syrup, and artificial sweeteners. Through rigorous third-party testing, we guarantee the unadulterated nature of our products.
We value transparency and have a unique way for customers to check our CBD product's credibility. By scanning the QR code, third-party test results are accessible so customers can validate that the product meets regulatory guidelines. Our commitment to providing customers with validated information is rooted in science-based practices for optimal satisfaction.
Meet Our Expert Botanist
Connor Kelly Founder, CEO
Connor Kelly is the Co-Founder and CEO of Daily Dose CBD. With his expertise and experience in the industry, he has brought to you a range of effective and user-friendly CBD products, along with other plant-powered remedies.